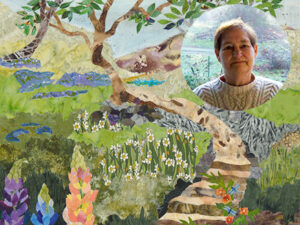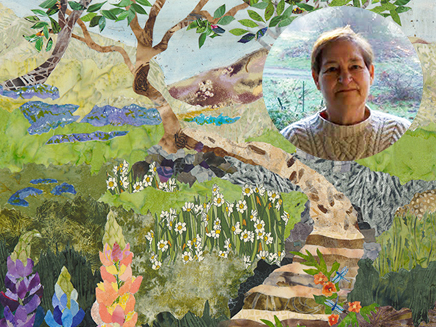 Maggi Mason has lived and travelled in many countries spanning Europe, Far East, and America. The diverse cultures she experienced first hand reflect through her work. Her subject matters are varied as well. Besides landscape scenes from her travels, you will find pieces created from her interpretation of folksy traditions, myths and poems. Maggi likes to experiment with different media to reflect the excitement of movement and color. Her early artwork was mainly in oil. Her recent focus is on collage and mixed media.
A few words from Maggi:
As an artist, I draw my inspiration from poems, songs, myths, memory and travels around the world. Most of my work comes from my imagination, and sometimes from memories of people and landscapes which have touched me in some way. Oftentimes, the pieces that seem to interest the audience most are the ones I feel most passionate about myself. Making art is a wonderful way of sharing.

I would like to suggest to fellow cancer survivors that having a passion, such as creating art, can help to ease and even overcome this difficult disease. So find your passion and concentrate on it instead of on your problems.
Visit our Maggi Mason collection.