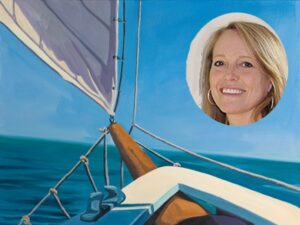 Catherine Breer began drawing as soon as she could hold a pencil in her hand. Catherine grew up in Seoul, Korea. The vivid colors and graphic patterns found in Korean art have heavily influenced her style. Color and composition are the most important elements in her work.
Catherine's current focus is on landscape painting. She has lived along both coasts. Coastal towns and water views become a common subject matter. Catherine also likes to paint seemingly ordinary neighborhood scenes, but presents them in an extraordinary way.
Catherine studied painting and drawing at the Atlanta College of Art and The Museum of Fine Arts School, Boston. Her work has been exhibited widely throughout New England, and is in private collections all over the world.
A few words from Catherine:
I am always looking for that moment when the light hits just right, the shadows lengthen and ordinary objects become something quite extraordinary. Reflections appear on the water, light dances on the side of a building, bottles line up in a window just right. It is these moments in time that I want to capture. The landscape of Maine is a never ending source of inspiration for me. The rocky coast, the dark green ocean, verdant valleys, the harbors, and the coastal towns.
Visit our Catherine Breer Collection.