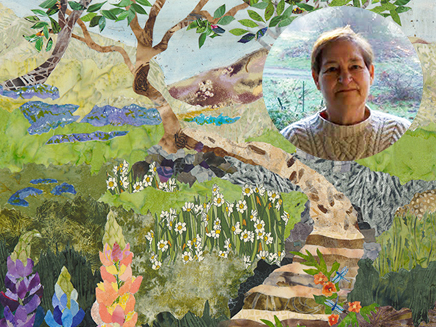 Artist Maggi Mason was living a very full life in 2012. She was relocating to a new country, searching for a home, and preparing to take the citizenship exam all while her husband was seriously ill. Meanwhile, she had some suspicions about her own health, but there are only so many hours in a day. Her suspicions were confirmed on a harrowing midnight ride to the emergency room. It came to her then that she might have cancer and that her life might be in jeopardy. Then came the diagnosis: Breast cancer. Stage 4. By this time, her treatment options were limited. But she would soon meet the doctor who would instantly gain her trust and provide her with the personalized care that would allow her to thrive. Five-and-a-half years later, she's still here, still in treatment, and still working her magic – much to the delight of art lovers everywhere.
Fertile Ground
To say that Maggi's art is her passion would be a gross understatement. Maggi and her art are inextricably intertwined.
She began expressing herself through art quite early in life. Born in China, she and her sister were sent to boarding school in England when she was just 9 years old. Her parents were unable to return until she was 15.
Alone much of the time, Maggi pursued creative outlets such reading, writing, and artwork. The more she let the outside world in, the more fertile the ground for her art.
"A good part of art is in the quiet hours when an artist thinks about a new piece, moves it around in his or her brain, experiments with different aspects of a picture, colors, composition, and so on. This is the exciting part for me," explains Maggi.
A world traveler, Maggi takes inspiration from many cultures and reflects it back in her pieces.
Blending It All Together
Maggi didn't want to be all about cancer. She needed it to be just one aspect of the bigger picture.
Understanding that cancer treatment is often harsh, she made quality of life a top consideration. She helped her doctor appreciate how vital it was for her to continue her artwork. Together, they formulated the best treatment plan for her. Concerned about the time commitment and side effects of IV chemotherapy, they opted for oral medications that would better suit her lifestyle.
Maggi was – and still is – able to enjoy plenty of time in her home art studio. In fact, she spends about 5 hours a day there. She likens art to an addiction, one that remains unbroken by cancer.
"Instead of lying in bed worrying about dying or cancer, I fill the hours when I can't sleep with sketching or tossing ideas around in my head. How could I, for instance, get a message across as to how unbelievably lovely are the birds in my garden, the flowers in the beds, the wildlife which moves casually through our 10 acres of woodland. How can I share an idea I had when reading a good book, or watching a scene develop in the countryside, or listening to music. How can I make someone laugh a little through an absurd idea in my picture and brighten up both their and my days," she ponders.
Those observations come to life in her works.
Maggi has been known to spend hours at a time in her favorite local paper shop, browsing through textured papers from Japan, Nepal, and the U.S. and imagining how she might use them in her collages. She also enjoys strolling through the quilt shop and envisioning ways to use various fabrics.
"Why would I sit here and sulk and worry myself to death (literally) about what is physically wrong with me? How unfortunate if I spent my remaining time loading my troubles on my friends and family instead of sharing happy thoughts and creative moments with them," she says.
But she's not oblivious to life's difficulties. She knows as well as anyone how hard things can get.
One thing currently testing her positivity is the fact that her oncologist ("The best doctor I have ever known.") is moving away and she'll need to find a new one.
She thinks back to other moments when things seemed somewhat hopeless and finds her way back to positivity. "Perhaps miracles will happen again, who knows? Or a cure for cancer might be just round the corner. We never know until it happens."
When the blues threaten to take over, Maggi has a few remedies, turning once again to reading and creating. In what one might call a form of meditation, she revisits places she's lived in her mind and allows herself to wander through the beauty of nature until the negativity lifts.
Messages To Other Cancer Patients
Despite stage 4 cancer and years of treatment, Maggi says she doesn't know anyone intimately who has had such a wonderful life as hers.
"That is huge, and something to be thankful for and to constantly think about and enjoy all over again."
Maggi has a few messages for other cancer patients. Messages that could just as easily apply to anyone.
"Find something you are really passionate about, even if it is not a creative thing – perhaps a mission, a love for someone, helping to save helpless animals and wildlife – and concentrate your time thinking and acting in that vein. Your hours will be well spent, and you will enjoy the time you have left. If you do have a creative hobby or craft, give bits of yourself in your creations away to people who will love them and find moments of joy in them."
Maggi says she's always been a bit of a solitary creature. Her life experiences have taught her to look at things a bit differently these days.
"Every spring now I look at the buds and realize it's another year I'm going to see all the leaves. We have swans that come in October and stay until early April. I watch them leave and think I have to stay here until they come back next year so I can see them again," she says.
"Before this happened, I looked at things from an artist's side. But I didn't think about the precious detail of a flower, or the amazing courage of little birds and animals and how they live their lives. It's the same from one part of the world to another. Everybody looks around, not really seeing what's there until something happens…until you might lose it."