While I find it hard to say goodbye to summer, I always love the romantic sensation that autumn brings. The spectacular fall colors, the crisp morning breeze, the rustling song of fallen leaves, oh my. And of course, I cannot but get excited about the holiday shopping that lies ahead. Let me tell you what we have in store for you.
Charity Gift Program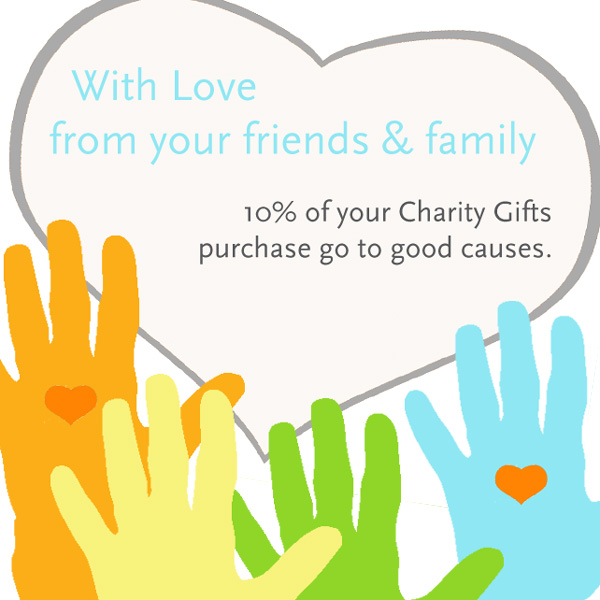 To celebrate the 2017 International Day of Charity, we are kicking off our new charity program. We'll donate 10% of your Charity Gift purchases to your selected cause. The program is simple. As a start, we have pre-selected six worthy causes and 501(c)3 charities. The six causes are Disaster Relief, Hunger Relief, Ending Homelessness, Healthcare for the Poor, Childhood Development, and Global Citizenship. Simply select your charity gifts and tell us which cause you would like to support at checkout. We will make the donation to the charity for your selected cause.
Charity Gift items are listed in our Charity Shop and are also denoted with a ♥ (an orange "heart" symbol). See Charity Shop for program detail.
Two New Calendars

myIntrospection Calendar

This new myIntrospection poster calendar is a collection of expressionist artworks by artist myIntrospection.Stephen. Each painting tells a story. These are stories that we encounter every day and can relate to in our own lives. The paintings are named after popular poems, songs, and folk sayings, where the lyrics add another dimension to the interpretation. The calendar is an inspiration for us to take time and reflect on our lives.

SoulDuster Wall Calendar

This SoulDuster Calendar is uplifting, fun and playful. It'll get you through the hustles of the day with a smile. Each month comes with a motivational quote with a humor twist. The Wall Calendar is a practical format made to be written on. It is a great family planner to keep track of everyone's activities at a glance.
New Notecards

SD Design Cards

We have 6 new SD Design Notecards (3 all-occasions and 3 greeting cards). These cards are fun and light-hearted, a perfect celebration of the little moments in life.

Handcrafted Cards

We are also bringing you 8 Handcrafted Notecards, which are created by artisans around the world using handmade paper, pressed flowers and fabric.

Journals and Meditative Art

Handcrafted Journals

These journals are a true celebration of diversity, cultural heritage and community. They are handcrafted by artisans around the world using traditional techniques, local and recycled materials. Let these journals help you unwind and reconnect with yourself.

Coloring Meditative Wall Art

Exercise your creativity by coloring your own wall art! We have 2 coloring wall art designs and 1 embroidered design for your selection.

Let "art washes away from your soul the dust of everyday life". Happy Shopping.