The Collage of Musings Calendar is an amazing collection of Maggi Mason's collages highlighting her life around the world. Hear from Maggi what her inspirations are behind each of the collage in the 2019 calendar.
Get a copy of Maggi's 2019 Collage of Musings Calendar today.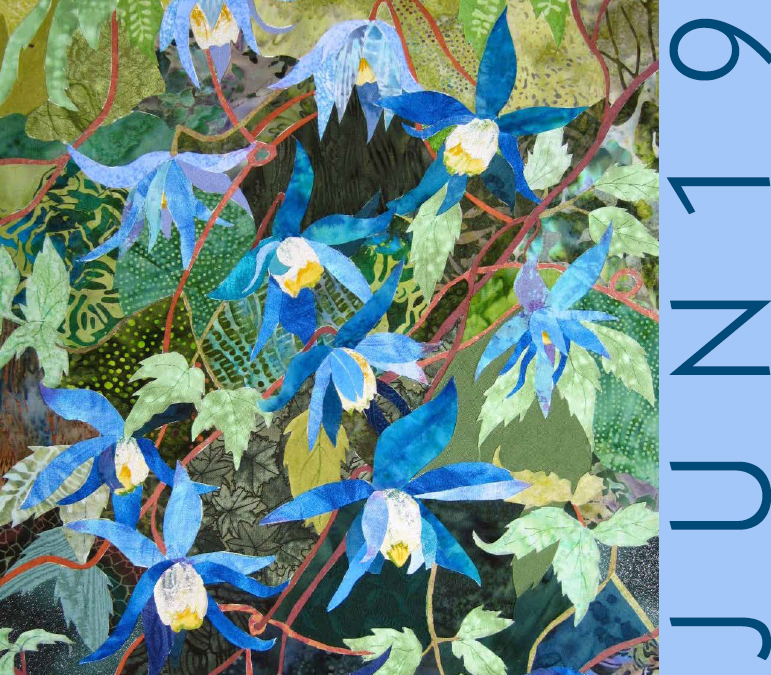 Jun 2019: Clematis
In my Pacific North West garden I have two beautiful Clematis Alpina with the bright blue nodding flowers and yellow bell-like centers. Recently we decided to rebuild our back deck so reluctantly I had to sacrifice the one spreading blue Clematis which climbed along the railings. I felt sad as I cut it down and threw the discarded stems into the woods. I kept remembering with gratitude the times I spent sitting on the deck with a book under the shade of the Clematis and listening to the bees and Hummingbirds working around the flowers. Much later as I walked by I was so happy and surprised to see that one sprig of my lovely Clematis had self-rooted there in the woods from discarded stems. At the base of the deck a new plant was also springing up from the old root. Life is like that, new joys and experiences spring unexpectedly from old pain and sad memories.
May 2019: Glazing into the Water
I have always been fascinated by the notion that two people who are close can look at the same thing and yet see such different images, or have such different thoughts about what they see. In my picture "Gazing into the water" I am reminded of my sister and I, both creative people, but in a situation like this my thoughts would extend to other water inspired paintings yet untried, and how I might portray them. My sister, on the other hand, would probably be analyzing how she could use words best to describe the actual water she is gazing into at that moment. If only we could all accept and enjoy these types of differences between people the world would be a calmer and freer place.
Apr 2019: Sweet Peas (Lathyrus Odoratus)
Sweet peas, my favorite early summer flowers, fill my garden with their haunting scent. Their fragile colors harmonize from a deep purple to the lighter, softer shades.
Just before she passed away, Pat, my best friend in Wales, gave me an envelope full of her deep purple sweet pea seeds. Every year afterward, I planted them in her memory and saved the seeds. When I returned to America in 2005, I brought my precious seeds with me and grew them here in the Skagit Valley. They give me pleasure both to see and to smell and provide me with endless inspiration for floral paintings and collages.
Mar 2019: Afternoon of the Hares
A collage dedicated to the brown hares (Lepus Europaeus).
On of my favorite legends is that of St. Melangell of Pennant Melangell, Wales. She, a young woman who fled Ireland to escape an arranged marriage, ended up in a beautiful, isolated green valley, surrounded by wooded mountains and crossed by a running stream. There she erected a rough woodland shelter and spent her days rescuing hares. The hares were being hunted almost to extinction by local lords and their henchmen.
One lord, admiring her courage and beauty, built a stone shelter for her and her rescued hares, and then banned hare hunting in the valley to this day. The stone sanctuary, incorporated now into a church, is filled with carvings of hares, and in the original quiet space, light slants in through arched windows, and you immediately feel a mystical serenity.
Feb 2019: Flight of Fancy
In this picture I tried to show how one can move from a safe and known present, up the hill, to an unknown future. The climb is difficult often but there are resting places on the way to stop and enjoy the view. If you ae like me, no matter how hard the climb and how many moments of despair you feel, you keep thinking about what could be ahead. What fabulous scenes you might see spread out when you finally approach the top. What if the surprise at the top was something lovely you never imagined possible, and what if along the way you met some wonderful people who could change your life with their friendships?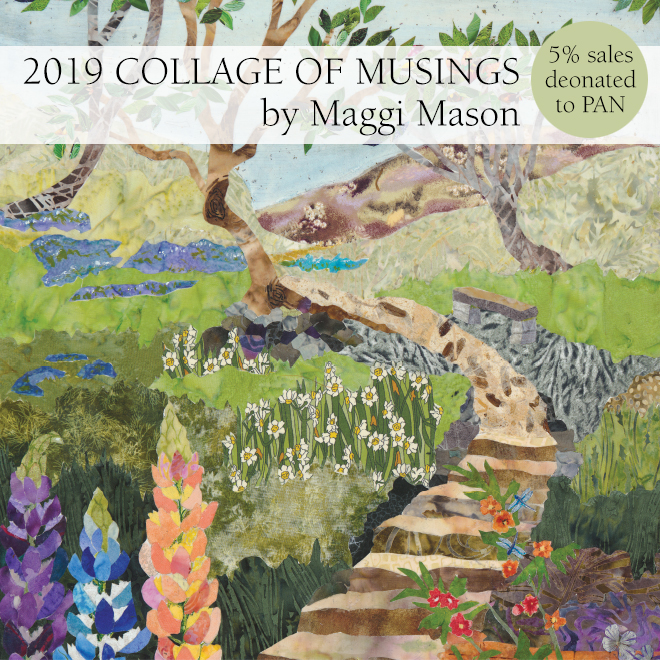 Jan 2019: Winter Sunset Bird
Robert Frost's poem "Looking for a sunset bird in winter" describes his move through the winter snow in the evening, and thinking he saw a bird land in a tree. He walked around the tree but could not see or hear the bird any more, just one piercing star in the sky. Later in summer he saw the bird again in the tree "singing… sweet and swift". In reading the poem I felt in my own heart the bitter cold, the soft swish of snowshoes moving past the tree all shed of its leaves except for one dead leaf still hanging, and the sudden glimpse of a bird which seemed merely as a flick of imagination. Then later in the warmth of the summer sun there was the singing bird in the same tree now heavy with leaves, and pregnant with life. So, in life, when things are rough we yearn for a hopeful sign, impatient for the inevitable surge of renewed life again as summer approaches.
Get a copy of Maggi's 2019 Collage of Musings Calendartoday.